Jeep is known for its rugged, off-road vehicles, and this year's Easter Jeep Safari event held in Moab, UT was no exception. Among the prototypes and wild concepts on display was a unique creation that merged a 1970s Jeep Cherokee with a 2022 Jeep Rubicon 4xe.
The result is a stunning vehicle that combines retro aesthetics with modern performance specifications. The two-door car features a bold, "Starburst" yellow paint job with old school orange and red trimmings on the hood and side doors. Under the hood, you'll find a modernized engine equipped with two electric motors, a 2.0-liter turbocharged I-4 engine, and a high-voltage battery pack. The car also boasts an eight-speed automatic transmission, 37-inch tires wrapped around 17-inch "slotted mag" wheels, and a four-point safety cage at the back.
In terms of power, this concept vehicle packs a punch with 900 pounds of torque and 650 horsepower. The rear cargo space is designed to fit a full-sized spare tire instead of a rear bench seat.
The car is now on display at Jeep's Utah Easter event from April 1 to April 9, giving enthusiasts and fans a chance to see this unique vehicle in person. It's a testament to Jeep's commitment to innovation and pushing the boundaries of what's possible in the automotive industry.
If you're a fan of classic cars or modern off-road vehicles, this Jeep concept is a must-see. With its unique design and impressive specs, it's a true standout among the other vehicles on display at the Easter Jeep Safari event.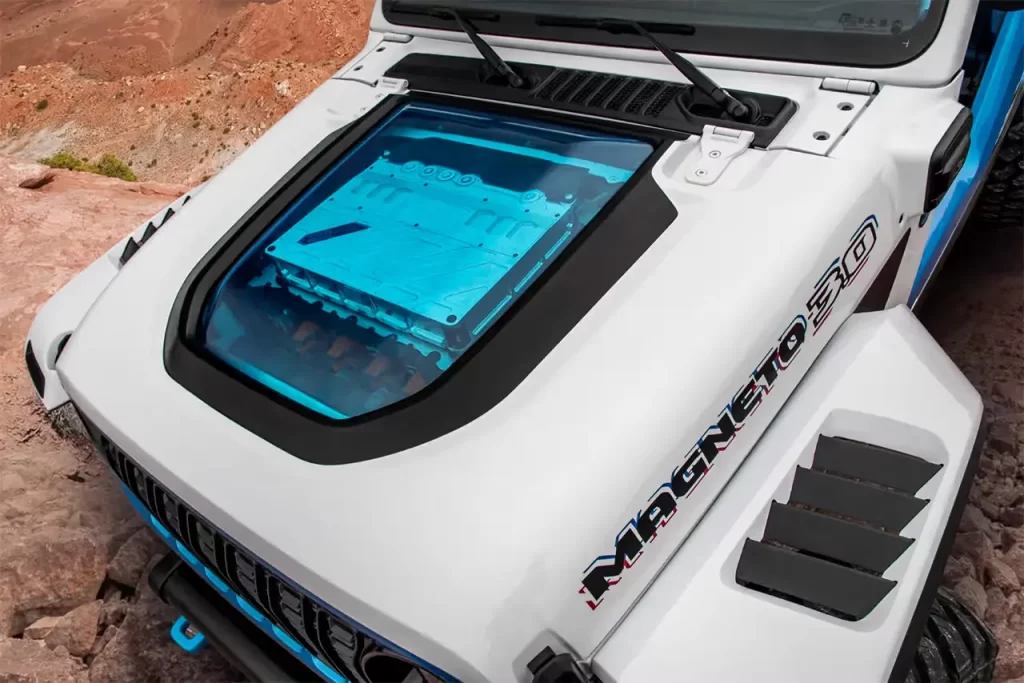 For more automotive news subscribe to our mailing list today.
More articles:
Nissan Unveils Plans for "R32EV" Electrification Project
Master y Dynamic Unveils Updated MH40 Wireless Headphones
Hermès Unveils Equestrian-Inspired Apple Accessories
BUDGET CIGARS
The New Midlife Crisis