The New Balance 990 series, with its esteemed reputation for comfort and innovation, has always been more than just another sneaker line. Each version signifies a progression in design and technology.
The "Green/Yellow" New Balance 990v1 MADE in USA sneaker may not have the same allure today as its counterparts, but it's rooted in a rich heritage from 1982, marking its prominence in the running category.
Teddy Santis, known for his refined tastes and appreciation for authentic heritage, delved deep into New Balance's archives as the brand's creative director. He seems determined to revitalize the esteemed legacy of the 990v1, ensuring it doesn't remain just a page in history.
The recent "Tan and Green" release was a testament to the shoe's timeless appeal, and this new "Green/Yellow" version promises more of the same nostalgic charm. Its spring-inspired colourway is a nod to renewal and vibrancy. The St. Patrick's Day inspiration is evident, not just a gimmick, but a subtle homage to celebration and culture. The use of varying green shades on a premium medley of mesh, suede, and leather adds depth and texture to the shoe, making it both a visual and tactile delight.
What truly stands out, however, is the contrasting play between the off-white tongue, red branding, and the iconic yellow "N" logo. It provides the sneaker with a contemporary edge, balancing nostalgia with modernity.
In addition to the aesthetic touches, the shoe doesn't skimp on comfort. The ENCAP cushioned sole is a reminder that New Balance's commitment to performance is unwavering. With subtle branding gracing the heel counter, every detail is meticulously crafted.
As sneaker enthusiasts and fashion-forward individuals mark their calendars for March 30, it's evident that the New Balance 990v1 MADE in USA "Green/Yellow" isn't just a shoe. It's a statement, blending legacy with innovation, all at a price of $190 USD. Those keen on adding this piece to their collection should keep their eyes peeled at New Balance outlets and selected stores.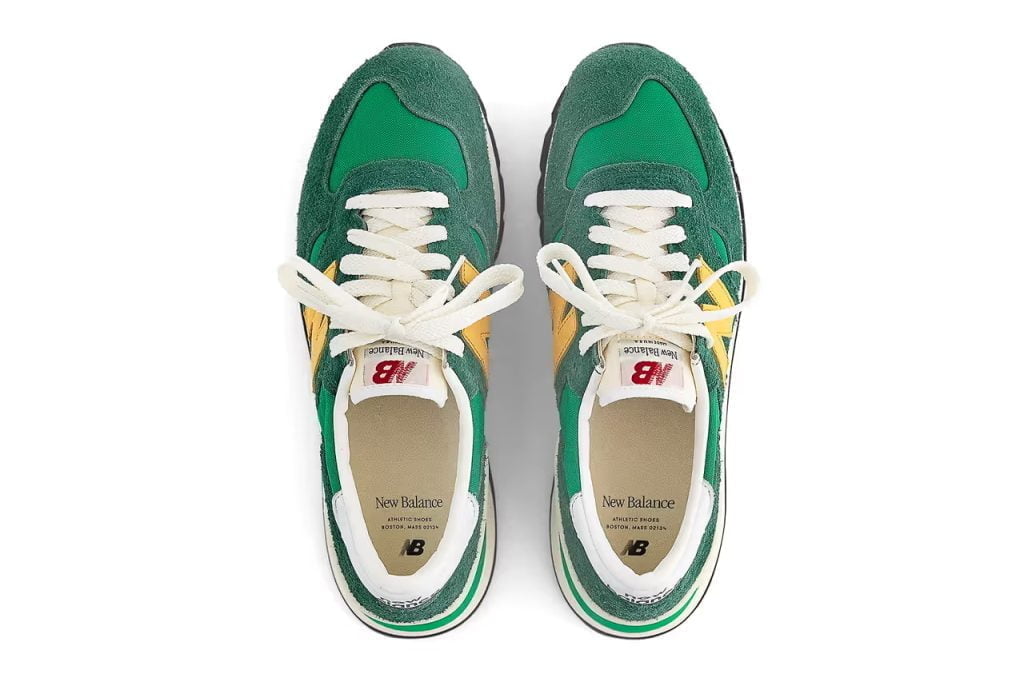 In related news, New Balance 990v6 appears with a simple "Navy/Grey" makeover.
For more fashion news subscribe to our mailing list today.