Description
Featured in Cigar Aficionado Magazine, experience a blend of British Harris Tweed tradition with Italian craftsmanship in the Limited-Edition Harris Tweed Cigar Case. More than just a cigar case, it's a symbol of timeless elegance, designed for those who appreciate the unique combination of classic Harris Tweed and Tuscan Vegetable-Tanned Leather.
Signature Fabric: Authentic Harris Tweed, celebrated for its resilience and timeless charm.
Leather Touch: Premium Tuscan Vegetable-Tanned Leather, marking the zenith of leather craftsmanship.
Security: A meticulously crafted leather-wrapped metal guardian in the central pouch ensures your cigars' safety. It comfortably accommodates 4 cigars (up to 64 ring gauge) or 6 cigars (standard size).
Versatile Compartments:
Magnetic Pockets: Three distinct pockets with hidden magnetic tabs for essentials like lighters, cutters, passport, or wallet.
Concealed Chamber: Reserved for your cards, complemented by a flexible band to cradle your cigar rest.
Sleeve: Generously designed to store your Poker Draw tool or a cherished pen.
Closure: The Swiss Riri Zipper, a benchmark in precision and luxury accessory crafting.
Tuscan Leather & Certificate of Guarantee:
 Our symbol – Pelle Conciata al Vegetale in Toscana – is more than just a logo. It tells the story of Tuscan artisans, their long-standing methods of vegetable tanning, and their dedication to excellence. Every item comes with a certificate. This is our assurance of its quality and heritage, complete with a unique serial number that tracks its journey from the trusted tannery right to you.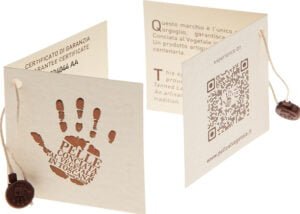 Harris Tweed Legacy:
In a changing world, timeless classics stand out. The Harris Tweed Cigar Case is one of these enduring treasures, perfectly blending style and function, ensuring it remains a standout piece for years to come.
Care Instructions:
Harris Tweed®️ is a testament to tradition. Woven from 100% Pure New Wool, it demands affectionate care. Attend to spills promptly with gentle dabbing and, if required, a hint of mild wool detergent. Persistent stains? Trust only a seasoned dry cleaner.
Kindly Note: Screen hues might slightly differ. Cigars and their accompanying accessories are not part of the purchase.
Elevate your collection. FREE personalisation awaits for that unparalleled signature touch. Click here to make it truly yours.