Description
A Celebration of British Craftsmanship and Italian Elegance
Each Sierra Maestra Cigar Case is a culmination of three intensive days of artisanship by our skilled British craftsmen. Not merely an accessory, its creation marries traditional techniques with the opulence of Tuscan Vegetable-Tanned Leather. Tailored specifically for the discerning cigar enthusiast, this case embodies meticulous attention to detail and an unwavering commitment to excellence.
Features:
Discover Luxury, Experience Practicality
Signature Touch: A prominent front pocket, graced with our signature logo, immediately catches the eye.
Safe Storage: The central pouch, fortified by a leather-wrapped metal guardian, confidently stores 4 cigars of up to 64 ring gauge or 6 cigars with a 43 ring gauge.
Magnetic Marvel: Three specially designed pockets come with discreet magnetic tabs, ensuring your cigar accessories, car keys, passport, and wallet stay right where they belong.
Essential Extras: Benefit from a concealed pocket for your cards and a flexible band tailored to cradle your cigar rest. Additionally, a generously-sized middle sleeve stands ready to house your Poker Draw tool or a pen of your choice.
Finishing Flourish: The pièce de résistance is the Swiss RIRI zipper system, a name synonymous with high-end precision in metal accessories.
Leather:
When Excellence Meets Ethical
The Sierra Maestra Cigar Travel Case is an emblem of distinction, sculpted from Tuscan Vegetable-Tanned Leather. This leather, known far and wide by its emblematic logo – Pelle Conciata al Vegetale in Toscana – is not only a mark of top-tier quality but also a beacon for environmentally-conscious luxury. This leather stands out, not just for what it contains, but for what it proudly omits – toxic substances like azo-dyes, nickel, PCP, and chrome VI, making it a choice that respects both the user and the environment.
Certified Guarantee:
Our warranty card is not just a promise; it's a commitment. It stands as a testament to the leather's origin, its impeccable manufacturing, and the undying essence of vegetable-tanned leather. Each tag we craft is a challenge against counterfeiting, bearing a unique serial number that echoes the dedication of both the tannery and the craftsmen behind each product.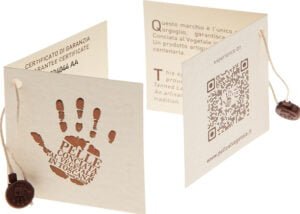 Choosing Sierra Maestra is more than just a purchase; it's a statement. It's about aligning with values, embracing a unique lifestyle, and indulging in a product that truly understands the spirit of its owner.
Care Instructions:
Cherish your Sierra Maestra. For cleaning, use unscented, alcohol-free wipes, and always steer clear of products that might tarnish its natural finish. For minor marks, a gentle, circular rub can work wonders.
Note: Leather's hue might vary slightly due to monitor displays. The case is sold separately, and cigars and accessories are not included.