Aston Martin has recently revealed its highly anticipated DB12, marking the dawn of a new era for the prestigious automaker. Positioned as the world's first "Super Tourer," this remarkable vehicle showcases Aston Martin's commitment to innovation and celebrates the brand's rich heritage, coinciding with its 110th anniversary and the 75th year of the iconic DB model line.
The DB12 exudes elegance with its sleek chassis, embodying a bold and muscular stance that hints at the immense power beneath its surface. Equipped with a state-of-the-art 4.0 V8 Twin-Turbo engine sourced from Mercedes-AMG, this beastly machine surpasses the performance of its predecessor, the DB11's V12. The V8 engine delivers an astounding 671 horsepower, enabling the DB12 to achieve top speeds of 202 mph. It's capable of accelerating from 0 to 60 mph in a mere 3.5 seconds, offering an adrenaline-pumping driving experience like no other.
Notable technical advancements include a cutting-edge suspension system featuring intelligent dampers and ultra-stiff roll bars, providing exceptional handling and responsiveness. The DB12 also boasts bespoke 21-inch Michelin Pilot Sport 5 S tires developed exclusively for Aston Martin. Power is seamlessly transmitted through an 8-speed automatic transmission, while a groundbreaking addition to the DB series, the Electronic Rear Differential, enhances the car's Electronic Stability Control system. This innovative differential instantly adjusts from fully open to fully locked in a matter of milliseconds, granting drivers unparalleled precision and control on the road.
From an aesthetic standpoint, the DB12 captivates with its captivating design elements. The front grille has been enlarged, accompanied by a re-shaped splitter and new LED headlights, all contributing to a more assertive and commanding presence. Aston Martin's iconic wings badge is proudly displayed on the vehicle's exterior for the first time, signifying its place within the brand's illustrious lineage. Sleek flush door handles and frameless wing mirrors further accentuate the DB12's refined elegance.
Amedeo Felisa, Chief Executive Officer of Aston Martin, emphasizes the importance of honoring the brand's heritage while pushing forward into the future: "When a brand has as much history as Aston Martin, it is crucial to pay tribute to the past, not by dwelling on it, but by harnessing the same energy and passion that propelled our founders over a century ago. With the new DB12, we are reinvigorating the DB model line and reestablishing Aston Martin as a producer of exceptional performance sports cars. By combining unparalleled performance, exceptional chassis dynamics, cutting-edge technology, meticulous craftsmanship, and impeccable design, the DB12 propels Aston Martin into an era of unparalleled excellence."
In summary, the Aston Martin DB12 represents a groundbreaking leap forward in automotive engineering and design. With its unmatched performance, refined aesthetics, and a relentless drive for innovation, this Super Tourer sets a new standard in the world of luxury sports cars. Aston Martin's unwavering commitment to excellence is beautifully encapsulated in the DB12, securing its place as an icon of the road and a testament to the brand's enduring legacy.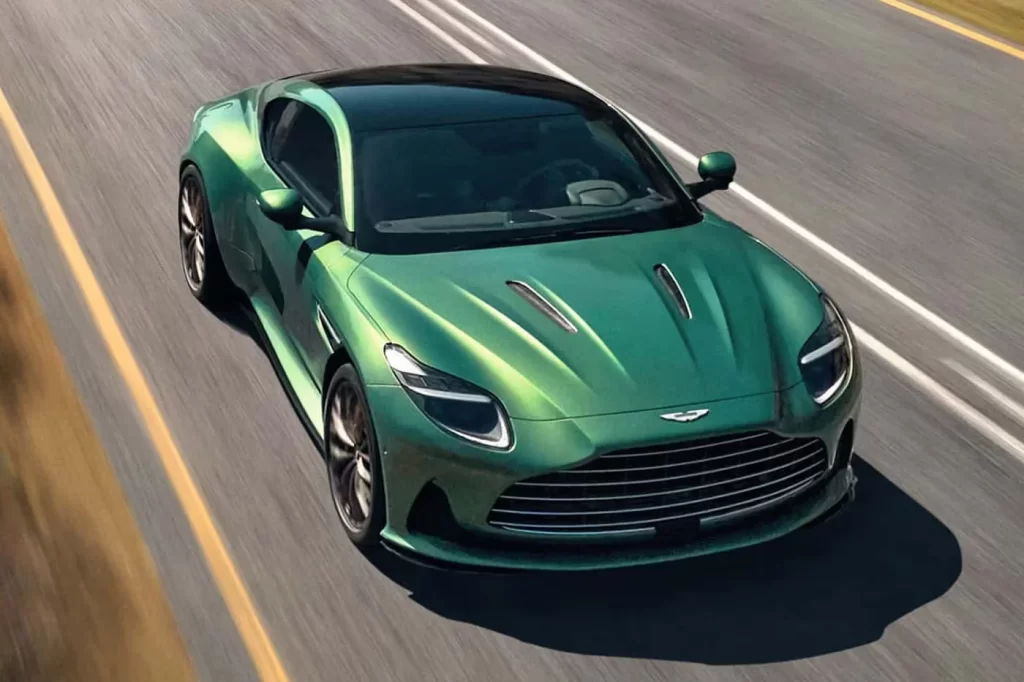 More articles:
Aston Martin Teases New DB Model Ahead of Release
Introducing the Brabus 930: Unleashing Unparalleled Power
De Bethune Introduces New DB Eight: Continuing the Legacy of Single-Button Chronographs
Rolls Royce unveils the final V12 coupe, the Black Badge Wraith Black Arrow
Experience Unmatched Performance with LA GOLF's Gen 2 "Malibu" and "Bel-Air" Putters