Geneva-based independent watchmaker Vacheron Constantin has recently launched its latest timepiece, the Traditionnelle Tourbillon, which combines the classic essence of the brand with a modern touch. The watch features a 41mm platinum case with a stunning sunburst green dial that provides a peek into the watch's inner workings. These include a 22k gold peripheral rotor, an ultra-thin self-winding movement with a tourbillon regulator, and more.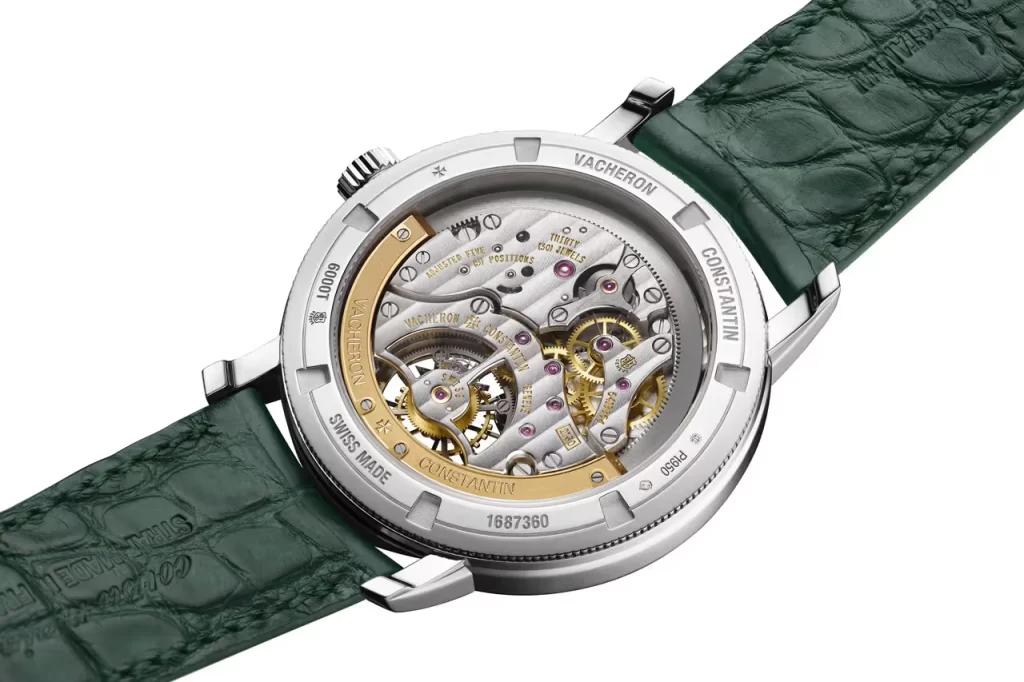 To showcase the intricate mechanisms of the watch, the Traditionnelle Tourbillon comes with a clear sapphire crystal case back. The sunburst green alligator leather strap adds a luxurious touch to the overall look and feel of the timepiece.
According to Christian Selmoni, Director of Style and Heritage at Vacheron Constantin, the Traditionnelle collection is a testament to the brand's watchmaking heritage and expertise. The watchmaker's commitment to precise stylistic codes and timeless aesthetics is evident in the Traditionnelle Tourbillon's design.
Vacheron Constantin's contemporary vision of the classical approach to watch design is highlighted in the new dial color of the Traditionnelle Tourbillon. The watch is available for purchase through online inquiry or at select boutiques.
In summary, the Traditionnelle Tourbillon is a beautiful timepiece that combines Vacheron Constantin's rich heritage with modern design elements. Its intricate mechanisms and stunning aesthetics make it a must-have for watch enthusiasts and collectors alike.
Be sure to also check out more Watches & Wonders coverage for the latest developments in luxury watchmaking.
More articles:
Piaget's Watches and Wonders Highlights Fuse Prestige Watchmaking with High Jewelry
De Bethune Introduces New DB Eight: Continuing the Legacy of Single-Button Chronographs
Hermès H08 Watches and Wonders 2023: New Colors and Materials
Cartier Watches and Wonders 2023: A Look at the Brand's Latest Creations
Grand Seiko's Watches and Wonders 2023 Lineup: A Stunning Array of New Watches