On April 12 at 9 a.m. ET, Simon Brette made his independent horological debut by unveiling the Chronomètre Artisans timepiece, which immediately sold out upon its release. Before starting his own Maison, Brette worked with Jean-François Mojon, the founder of Chronode SA, as well as prestigious watch brands IWC, HYT, and MB&F. With this experience, Brette's company aims to be more than just an indie watch brand, but rather a collaborative horology project between artisans.
Described as "an ode to artisanal watchmaking" on the brand's website, the Chronomètre Artisans is a time-only model with an embellished movement. The 39mm case is made of lightweight yet durable zirconium alloy, and features a rose-gold dovetail motif as a symbol of the brand. The dial has a harmonious balance between classic and modern design, with a silver-tone inner flange and opaline finish. The base of the dial is made of solid red gold and hand-engraved with a pattern that resembles glitter specks and dragon scales, making the dial feel like an extension of the movement.
The timepiece is powered by a contemporary, manual-winding chronometer movement that has double mainsprings to provide up to 72 hours of power reserve. The Chronomètre Artisans is a unique and impressive creation that embodies the spirit of artisanal watchmaking. For more information on this exceptional timepiece, visit Simon Brette's official website.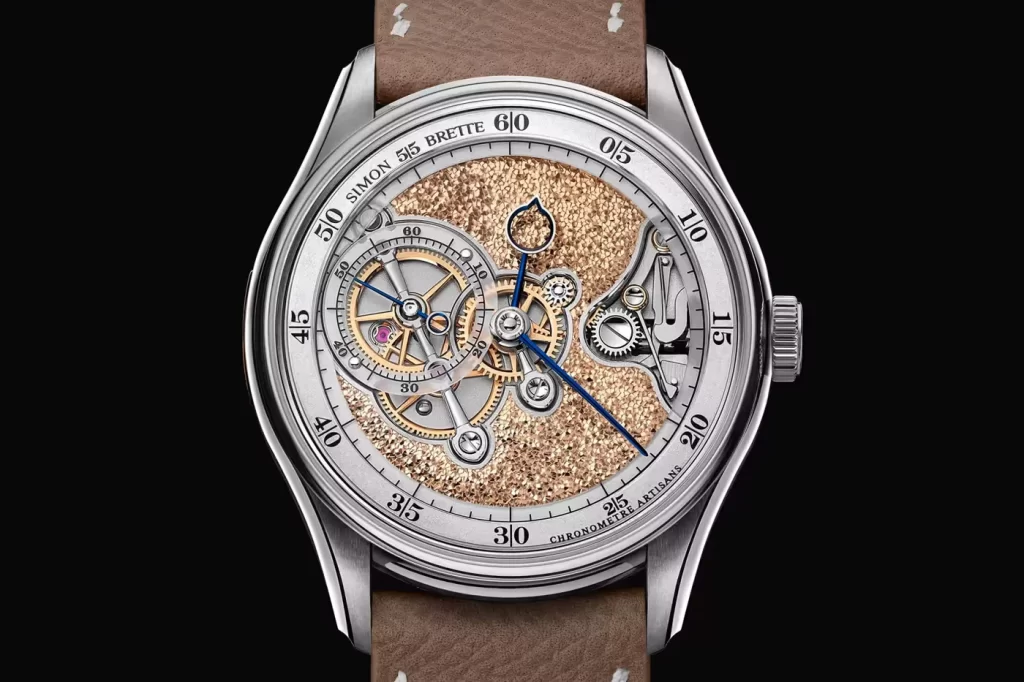 More articles:

Best Handmade Cigar Travel Case
Phillips Auctions Roger Smith's Masterpiece Pocket Watch
Bulgari's Octo Roma Collection: A New Chapter for Octagonal Timepieces
Unveiling the Best of Geneva Watch Auction XVII: A Preview of Timeless Treasures
De Bethune Introduces New DB Eight: Continuing the Legacy of Single-Button Chronographs