Celebrating two decades of spirited refinement, this rum has been given a delightful sweet sherry finish. The rich, unique flavors and distinctive character make this great rum a worthwhile experience in its own right. However, some expressions carry a particular allure for whiskey connoisseurs – and that's undeniably true for the 2023 Master Blender Edition from the distinguished Barbadian distillery, Mount Gay.
Mount Gay's exclusive Master Blender series, a line of premium rums, made its grand debut in 2018 with the unveiling of the XO: The Peat Smoke Expression. Allen Smith masterminded this creation during his tenure as Master Blender. The subsequent year saw a shift in stewardship as Trudiann Branker took the helm, imprinting her distinct touch onto the esteemed collection.
Under Branker's skilled direction, the Master Blender collection has been enriched with new variants such as the Pot Still Rum, the exquisite Port Cask Expression, the unique Andean Oak Cask, and the intriguing Madeira Cask Expression. The latest addition to this illustrious series is The PX Sherry Cask Expression – a mature, superbly aged rum that's bound to captivate whiskey enthusiasts, particularly those with a predilection for sherry cask-matured Scotch whiskies.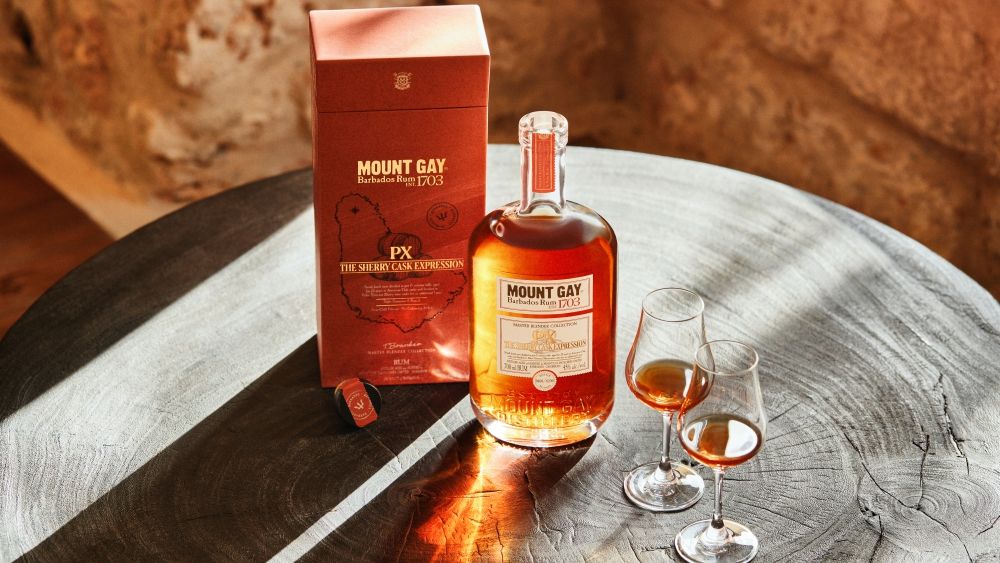 Crafted meticulously in both pot and column stills, this rum undergoes a 20-year maturation process in American whiskey barrels on Barbadian soil. Given the tropical climate's heat and humidity, this aging period is exceptionally long – conditions often said to accelerate the maturation process. After this substantial aging, the rum is then transferred to spend a further year in Pedro Ximenez sherry casks. These particular casks are highly regarded in the Scotch whisky industry, with renowned distilleries like The Macallan and GlenDronach utilizing them for nearly all their whisky maturation, along with other sherry butts.
Reflecting Mount Gay's unwavering commitment to purity, no sugar was added to this creation. Master Blender Branker draws her inspiration from the production process of PX sherry. Her fascination with how a matured rum would blend with the profound depth of casks used for aging fortified wines led to this innovative creation. The journey, as Branker shares, was extraordinary. She explored some of the distillery's oldest rums, discovering a select few 20-year-olds that held a robust body and character, ripe for the unique PX sherry cask finish. This exciting addition now proudly stands as part of Mount Gay's Master Blender Collection.
Presented at 90 proof and non-chill filtered, the rum possesses a vibrant palate despite its age. The prominent notes of rich oak gracefully give way to a flavorful symphony of black pepper, cinnamon, fig, raisin, molasses, and caramel. The influence of the PX sherry finish is unmistakable, yet it doesn't overshadow the inherent essence of Mount Gay's high-quality rum. Only 4,200 bottles of this exclusive release are available, each priced at $270 (approximately £217) SRP.
If you're a devoted rum enthusiast or a whiskey aficionado ready to diversify your palate, this bottle warrants your attention. Fear not if availability is scarce – the full spectrum of Mount Gay's collection, including previous Master Blender releases, is readily accessible on platforms like ReserveBar for you to explore.
More articles:
Cuban Rum and Cigars
Montecristo Open Master Single Cigar
Sierra Maestra Cigar Case Masters Green
Japanese Karuizawa Single-Malt Whiskey Selling for $50K USD