Sotheby's has revealed a previously undiscovered Patek Philippe "pink-on-pink" Reference 1518 timepiece that is now set to be auctioned. While all 1518 models are already considered rare, with only 281 produced during their time, this particular "pink-on-pink" version is even more exceptional as one of only 15 known examples. Out of these 15 watches, only 10 have ever been offered for sale. The upcoming auction at Sotheby's Important Watches event in New York on June 9 will feature this extraordinary timepiece as its main highlight.
Jonathon Burford, Sotheby's senior vice president and senior watch specialist, expressed his gratitude for being entrusted with the sale of this vintage Patek Philippe by the original owner's family. He described the watch as exceptionally rare, beautiful, and in remarkable condition. Its uniqueness lies in the fact that it has remained in the possession of the same family since its purchase in 1947, having been hidden and untouched in a drawer for 30 years. The discovery of this previously unknown vintage watch, in such pristine condition, is a dream come true for collectors of vintage Patek Philippe timepieces—a truly coveted and elusive find.
This timepiece, which will make its auction debut after 76 years since its original sale, is estimated to fetch between $2.5 million USD and $4.5 million USD. Encased in pink gold, the 1518 watch showcases matching salmon pink gold dials that exhibit signs of patina and aging, adding to its unique character. The case, crafted by Emile Vichet, belongs to Patek Philippe's second series and features tapered lugs, a larger crown, and lower-positioned chronograph pushers—all of which are remarkably well-preserved.
Take a glimpse of this extraordinary design in the gallery below.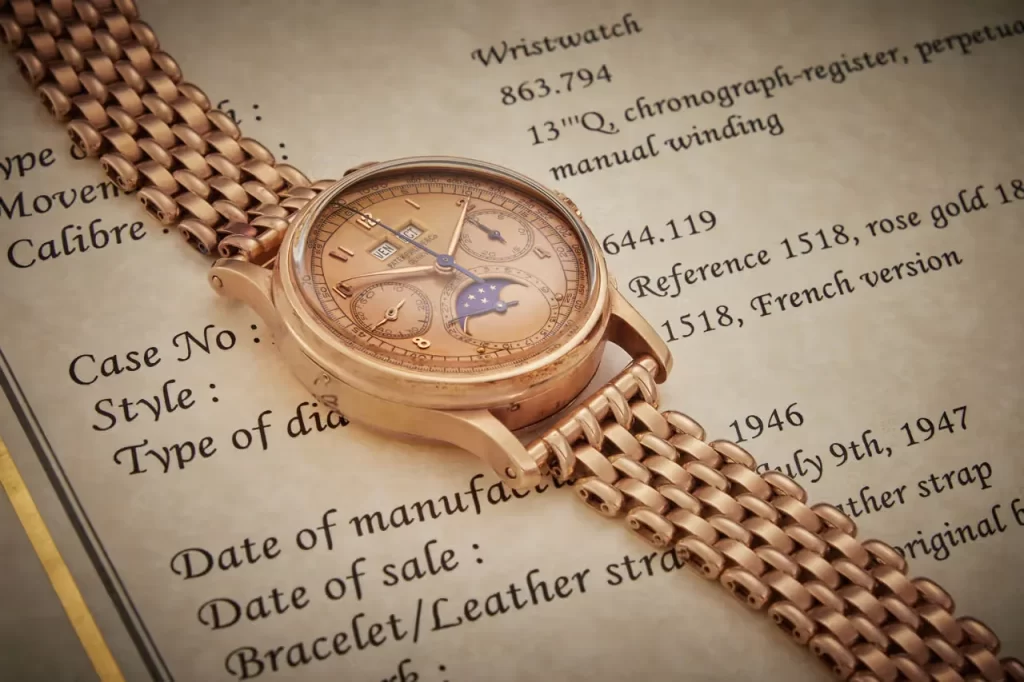 More articles:
Winston Churchill's Cigars Sells at Auction
Paul Newman's Rolex watches to be auctioned in June
Phillips Auctions Roger Smith's Masterpiece Pocket Watch, A Timepiece That Defines a Career
Unveiling the Best of Geneva Watch Auction XVII: A Preview of Timeless Treasures
Own a Piece of History: Bid on Michael Jordan's Iconic Sneakers from the 1998 NBA Finals