Zenith introduces the latest edition of the Defy Extreme E, season three's extraordinary timepiece. Meticulously crafted entirely from carbon fiber, this watch embraces the Extreme E's official color, "Vital Green."
Combining exceptional performance and a high-frequency chronograph movement, the Defy Extreme E accurately measures elapsed time with remarkable precision. Vibrant accents in the iconic "Vital Green" shade adorn this season's model, symbolizing a commitment to raising awareness and taking action on climate change. Notably, the watch incorporates recycled and upcycled parts from actual races into its strap and packaging.
Julien Tornare, CEO of Zenith, expressed his enthusiasm for the special edition Extreme E, stating, "As champions of sustainability and climate change awareness, Extreme E perfectly aligns with ZENITH's HORIZ-ON CSR initiative. We are honored to continue our support for Extreme E, which we believe represents the future of rally racing. The DEFY Extreme E edition commemorates this partnership with its groundbreaking all-carbon construction—a first for the DEFY Extreme line. We are thrilled to launch it here in Scotland alongside our esteemed friends and partners."
Zenith has managed to make the most rugged 1/100th of a second chronograph even lighter in this edition. The Defy Extreme E weighs a mere 96 grams, including the strap and triple-folding clasp, without compromising its signature durability. Showcasing a commitment to sustainability, the velcro strap features a central element of black rubber, surrounded by green cordura effect rubber to match the "Vital Green" accents on the dial. The watch is accompanied by two additional straps in black rubber and black velcro.
Limited to just 100 pieces, the waterproof and crushproof Zenith Defy Extreme E can be found at physical and online Zenith stores worldwide, urging individuals to embrace its powerful message of sustainability.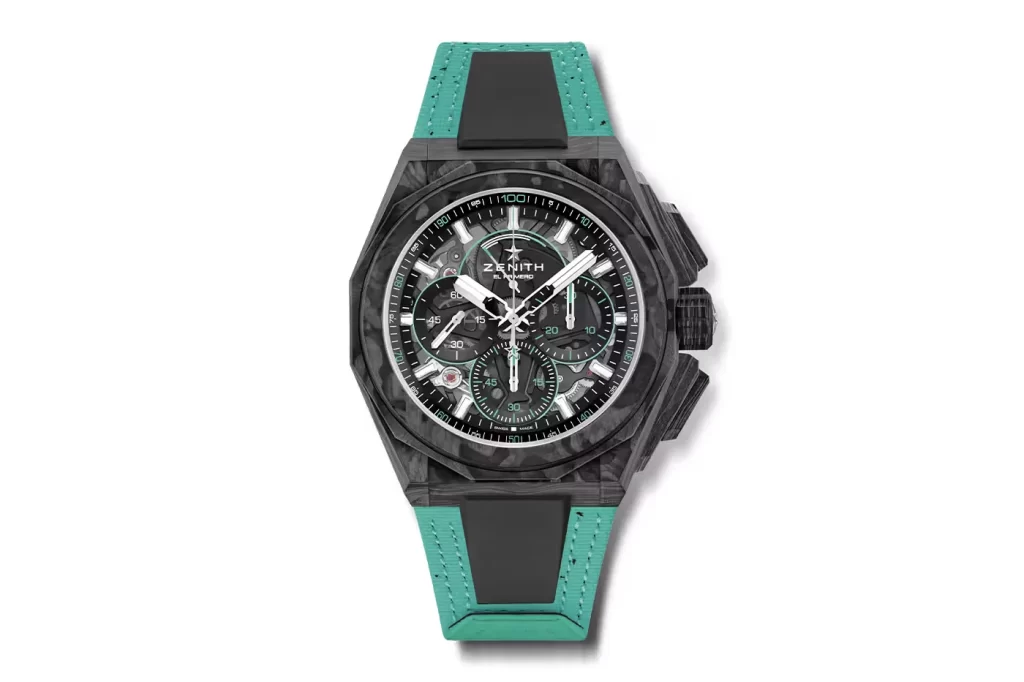 More articles:
Davidoff Year Of The Rabbit Limited Edition 2023 Cigars
St. Patrick's Day: Celebrating Irish Culture
Hermès H08 Watches and Wonders 2023: New Colors and Materials
British Retailer size? Presents Its Exclusive adidas Originals Archive All Team "Green"