Luxury watch brand Vacheron Constantin has partnered with the renowned Louvre Museum, forging a cultural and artistic alliance. This collaboration, initially established in 2019, has recently been renewed to honor the enduring connection between the two esteemed institutions.
As part of their shared commitment to preserving heritage in all its forms, Vacheron Constantin's exclusive Les Cabinotiers watch, crafted as a unique piece, was auctioned at the "Bid for the Louvre" sale in December 2020. The proceeds from this sale contributed to the museum's solidarity projects. The purchaser of the watch was granted a private visit to the Louvre and given the opportunity to select a cherished artwork from the museum's collection to be replicated on the watch's dial. Additionally, they had the privilege of visiting Vacheron Constantin's Manufacture in Geneva to personalize their one-of-a-kind Les Cabinotiers timepiece.
The watch pays homage to Pierre Paul Rubens' masterpiece, "La lutte pour l'étendard de la Bataille d'Anghiari." Transferring the intricate ink and pen strokes onto a 3.3 cm dial posed a true challenge for Vacheron's master enameller. The meticulous process involved using various tools, including bristles, pointed instruments, and even cactus spines. The grisaille enamel technique employed on this timepiece cleverly utilizes blanc de Limoges to create captivating depth and movement in the horse's mane.
Now known as "A Masterpiece on your Wrist," this bespoke Les Cabinotiers edition showcases an enamel reproduction of a Louvre artwork personally chosen by the buyer. A certificate of authenticity from the museum guarantees the fidelity of the reproduction. The exceptional experience includes a private tour of the Louvre guided by experts and a visit to Vacheron Constantin's Manufacture, where the buyer can meet the brand's master watchmakers and artisans.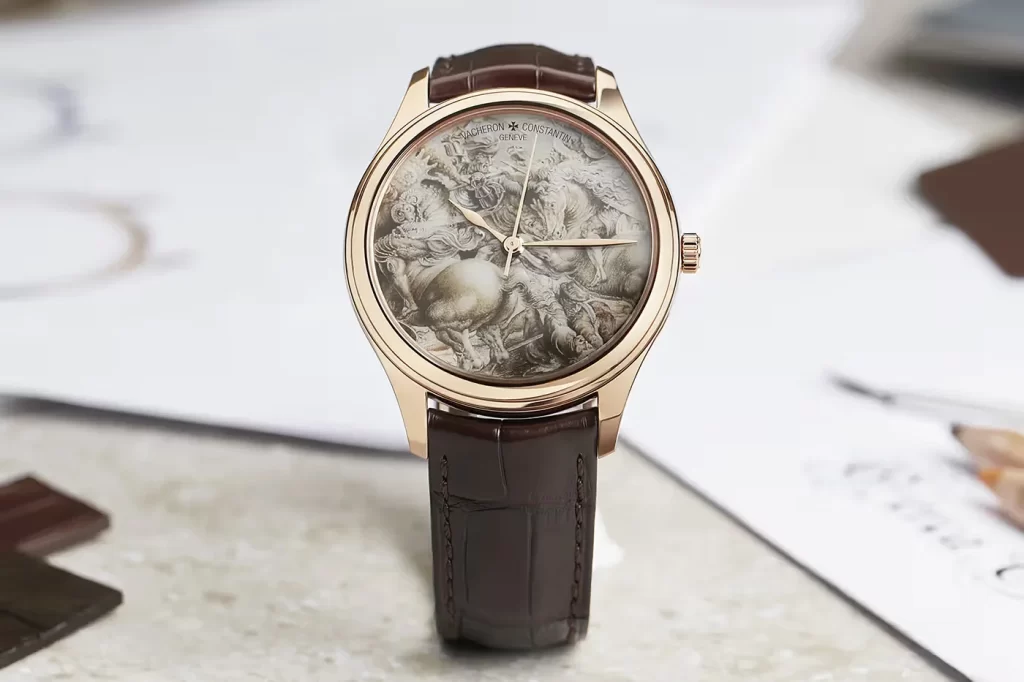 More articles:

Vacheron Constantin Unveils New Traditionnelle Tourbillon
Hermès H08 Watches and Wonders 2023: New Colors and Materials
Unveiling the Best of Geneva Watch Auction XVII: A Preview of Timeless Treasures
Piaget's Watches and Wonders Highlights Fuse Prestige Watchmaking with High Jewelry
Phillips Auctions Roger Smith's Masterpiece Pocket Watch, A Timepiece That Defines a Career