Introducing the first of its kind in the watchmaking universe – a boutique exclusive by Zenith.
Zenith kicked off this year with two sparkling additions to the Defy Skyline collection: the Defy Skyline Boutique Edition and the Defy Skyline Skeleton. This week, the brand unfurled a masterstroke that harmoniously blends the merits of these two models, giving birth to the Defy Skyline Skeleton Boutique Edition. This novelty presents a striking fusion of grey and gold shades, coupled with the uniquely three-dimensional dial skeletonisation – a proud harbinger of the world's first skeleton watch to display a 1/10th of a second indicator.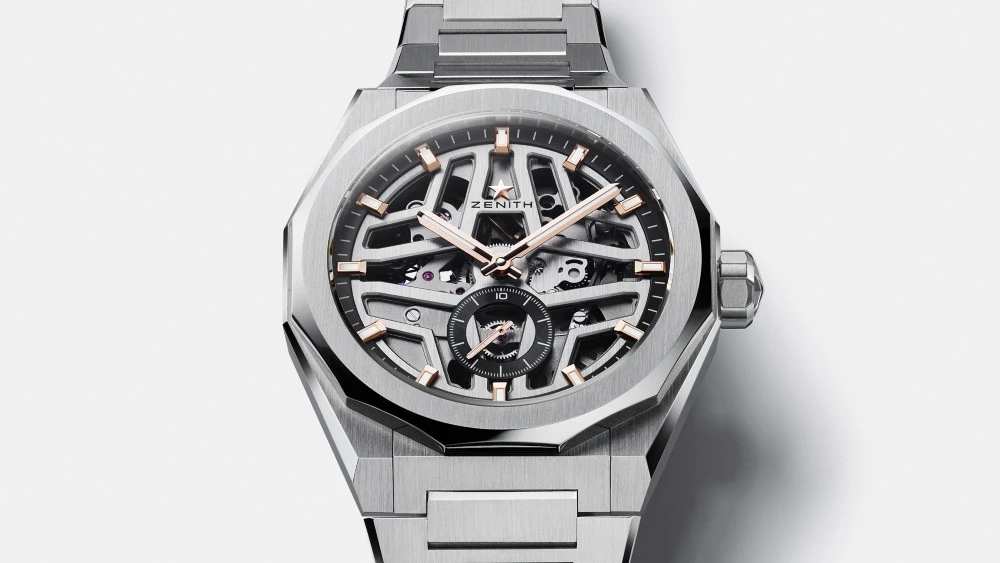 Deeply rooted in its lineage, the Defy Skyline Skeleton Boutique Edition encapsulates much of the original design ethos. Encased within a robust 41mm stainless steel structure, it showcases an architectural elegance. The sharply sculpted edges are crowned with a faceted bezel, a creative offshoot inspired by the early Defy models from the 70s. A modern twist is introduced through a dodecagonal bezel design, serving as an extension of the twelve-hour markers. A nod to its heritage, this model comes with an integrated classic bracelet that can be swiftly interchanged with a starry sky-patterned rubber strap. On top of this foundational design, several unique elements are sprinkled to lend this version its distinct personality.
Drawing aesthetic cues from modern metropolises, the boutique-exclusive edition reflects the dynamic interplay of structures and light through its use of grey, silver, and gold tones. The open dial melds seamlessly with an openworked variant of the high-frequency El Primero 3620 SK automatic movement. The product is a symmetrical masterpiece, a rare achievement in the realm of skeleton watches. As an homage to the 'double Z' logo from the 1960s, Zenith has ingeniously transformed its iconic five-pointed star into a four-pointed one. To ensure unblemished symmetry, the constantly running 1/10th of a second counter has been strategically positioned at six-o'clock, a departure from its nine-o'clock position in the standard Defy Skyline Boutique Edition.
Priced at $11,000 (£8,700), the Defy Skyline Skeleton Boutique Edition is now available for purchase, exclusively at Zenith's physical and online boutiques across the globe. For further details and to secure your purchase, we invite you to visit the Zenith website.
More articles:
Zenith Unveils Limited Edition Defy Extreme E 2023
Nissan Unveils Plans for "R32EV" Electrification Project to Revamp Iconic Skyline GT-R
Exploring the Elegance of Louis Vuitton's Voyager Skeleton Watch: A Masterpiece of Mechanical Minimalism
TAG Heuer's New Monaco Skeleton Models