Under Alessandro Michele's creative leadership, Gucci introduces two teddy bear-shaped minaudière bags. You can choose between a "GG" motif or a rainbow chevron pattern. Either choice is a bold fashion statement.
The "GG" style minaudière, shaped like a teddy bear, features silver-toned and black brass, adorned with hand-applied clear and black crystals. This version showcases resin eyes that gleam in a rich brown. Enhancing its luxurious appeal, a gold-toned "Interlocking G" chain strap complements the bag. The inside offers room for essentials, presented in a refined creamy-white shade.
The chevron variant also boasts a dazzling array of crystals, forming a playful tank top pattern with rainbow-hued ears. Instead of traditional paws, this design incorporates "GG" motifs, complemented by a matching chain.
No matter which design catches your eye, these Gucci teddy bear bags come with a price tag of £35,130 GBP (about $43,000 USD). View these unique bags on Gucci's official website to learn more or make a purchase.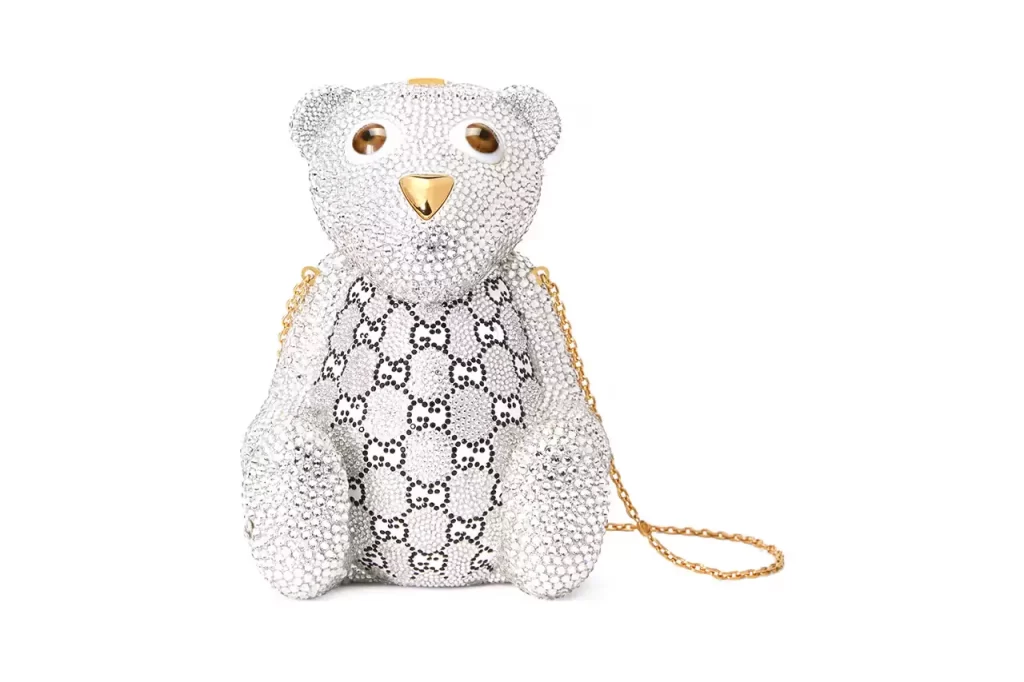 More articles:

Order cigars online
Top tips for cigars online shopping
For $15,000 USD, you can own a unique pair of Louis Vuitton boxing gloves designed by Karl Lagerfeld
Nissan Unveils Plans for "R32EV" Electrification Project to Revamp Iconic Skyline GT-R
The Curisosity Project: The Cigar Holder Case