In their pursuit of an even more hardcore driving experience, owners of the Porsche 911 GT3 in North America now have the opportunity to enhance their supercar with the Manthey-Racing upgrade package. This collaboration between Porsche and Manthey-Racing epitomizes the relentless pursuit of automotive excellence.
This package, available exclusively through official Porsche dealerships, includes several aerodynamic enhancements that are rooted in racing pedigree. Features like an aggressive front lip spoiler, canards, and underbody air control units are designed for improved aerodynamics and downforce, while the wider rear wing retains the iconic swan neck design, ensuring that style and function go hand in hand.
But it's not just about looks. The upgrade package also offers optional aero disc covers for the rear wheels, a carbon fiber gurney flap on the rear wing for increased downforce at high speeds and during tight cornering, and extended end plates that promise enhanced grip on the racetrack.
One of the standout features of this package is the Manthey-Racing fine-tuning of the car's dynamics. They meticulously reconfigure the coilover suspension, adjusting it according to the driver's preferences and driving style. This meticulous attention to detail results in a modified GT3 that achieves a remarkable 4.19-second improvement in lap time at the Nürburgring compared to its stock counterpart.
The Manthey-Racing upgrade package comes at a price of $57,300 USD. But for enthusiasts looking to make an even bolder statement, there's the option to acquire lightweight rims in an attractive gold-bronze tone for an additional $15,500 USD.
For the discerning driver seeking an edge on the track and a unique aesthetic, this package provides the ultimate blend of performance, style, and exclusivity. Delve into the visual details of this track-ready Porsche in the image below.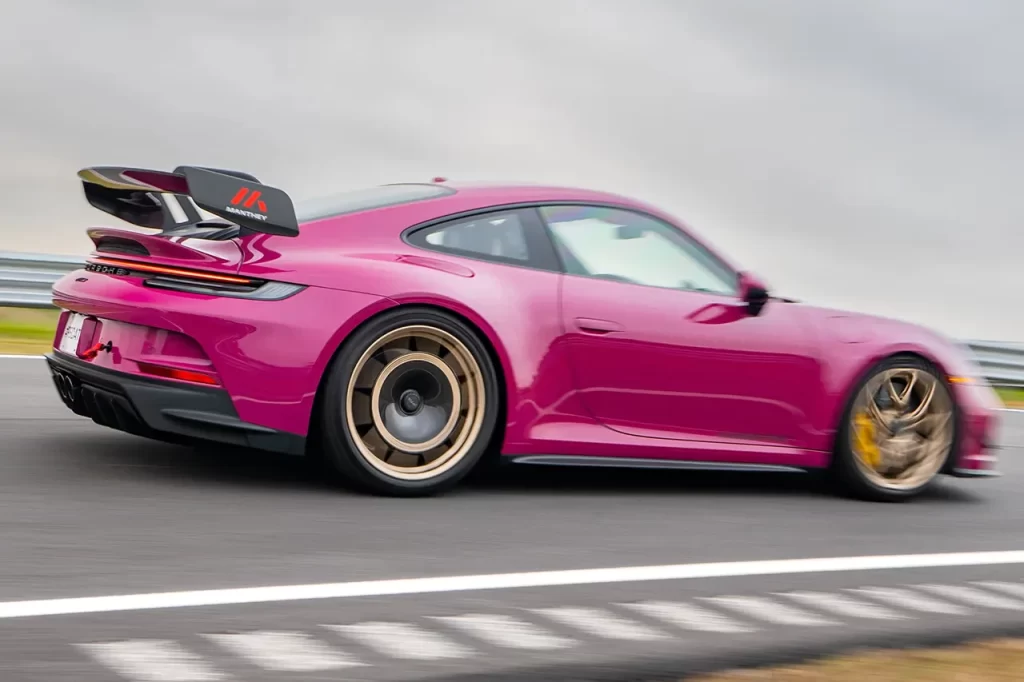 More articles:
Tesla Model S Plaid Achieves 200 MPH Speed
Hyundai Fined $200M USD as TikTok Trend Exposes Security Flaws
Japanese Karuizawa Single-Malt Whiskey Selling for $50K USD
Romeo y Julieta Club Kings and Partagas Capitols Retro Packaging