Introduction to Luxury
Embrace the blend of style and enjoyment as Dunhill introduces its stunning "Case of Delights." Tied to the brand's founder, Alfred Dunhill, this unique collection is limited to just ten cases worldwide. Its exclusivity echoes a sense of unique style, a tribute to the brand's proud 130-year legacy.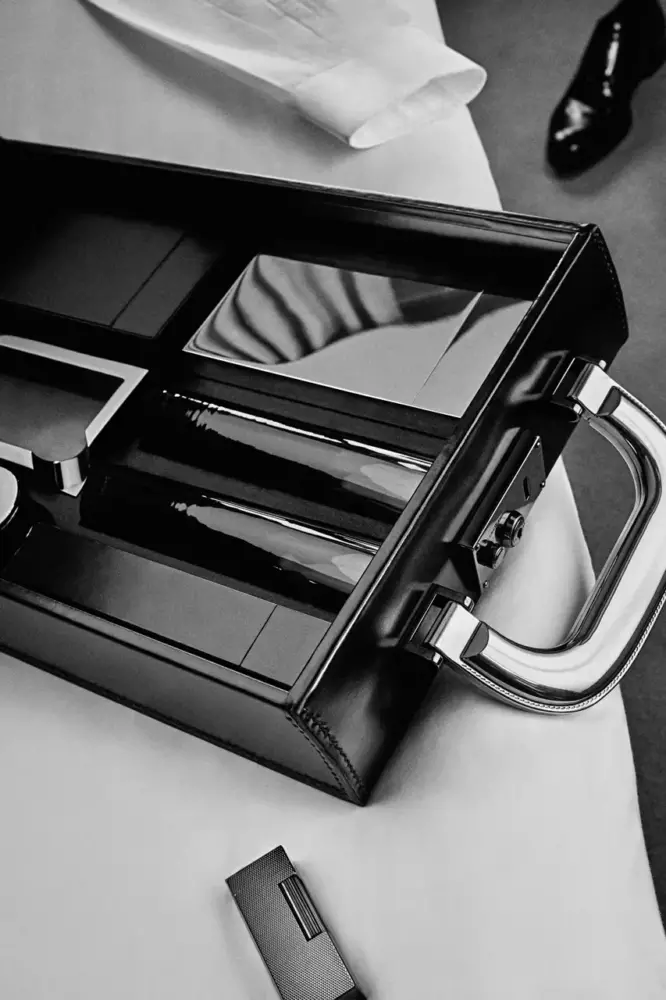 Celebrating Heritage
Dunhill's "Case of Delights" honors Alfred Dunhill's era, encapsulating the essence of a classic "British gentleman." The luxurious cigar toolkit and traditional English drink accessories serve as enduring symbols of elite leisure. Each item in the collection showcases Dunhill's expert craftsmanship, evident in every stitch and shiny detail.
Classic Elegance
The exterior of Dunhill's "Case of Delights" is clad in understated black bridle leather, a balance of modesty and grandeur. On opening, an array of "delights" await, nested in a soft lining similar in style. The case houses a mix of tools and accessories, including sturdy scissors encased in leather, a Rollagas lighter, an ashtray with an incense holder, and two additional cases. A cutter, briar pipe, and tamper, all crafted at the renowned White Spot workshop, complete the set.
The Modern Touch
The modern vibe of Dunhill's "Case of Delights" extends to the drink accessories. A pair of mineral shot glasses, adorned with a deep ombre gray shade and a "Bando" mark reflecting the 1930s Matteo Cellini era, are accompanied by a silver-plated flask and two unique containers crafted by skilled Italian artisans.
Experience the Luxury
For a closer look at Dunhill's stunning "Case of Delights," check the provided gallery. Available in limited quantities at Dunhill stores, this £24,000 / $32,000 USD set redefines luxury, emerging as a top pick for those who appreciate high-end and exclusive items.
More articles:
Dunhill's SS24 Collection: Subtle Luxury for Mayfair Clubs
Elevating Your Cigar Experience: Unveiling the Harris Tweed Cigar Case
How to choose the ideal cigar case: A guide for cigar lovers
What Should I look for in a Cigar Case