The Sierra Maestra Lether Cigar Case, from The Cigar Holder Ltd., has gained a listing with Cavendish No. 6 Sampling Lounge and Davidoff of London, with products arriving on shelves in May 2022. Handcrafted by artisans in Britain, this cigar case is using the finest Italian leather and Riri Swiss zipper.
This luxury cigar case has been designed with multiple compartments to hold and protect your favourite cigars and accessories, and a front pocket stamped with the signature logo. With Sierra Maestra you get practicality and style:
The centre pouch is lined with a durable leather-wrapped metal guardian for safe storage, allowing 4 cigars with ring gauges up to 64 or 6 cigars with a ring gauge of 43.
The three pockets have a discreet built-in magnetic tab to secure your cigar accessories: lighters and cutters, car keys, passport, or wallet.
A hidden pocket for your cards and a flexible band to hold your cigar rest.
The middle sleeve is spacious enough to accommodate your Poker Draw tool or pen.
Finishing off with the Swiss high-end RIRI zipper system, which is the leader in metal accessories manufacturing
Sierra Maestra Cigar Travel Case is made from Tuscan Vegetable-Tanned Leather. The trademark and logo "Pelle Conciata al Vegetale in Toscana" (Tuscan Vegetable-Tanned Leather) represent the symbol that guarantees this leather as an icon of excellence.
Tuscan Vegetable-Tanned Leather, recognizable by its trademark, does not contain any toxic substances such as azo-dyes, nickel, PCP, or chrome VI, harmful not only to man but also to the environment.
The Trademarked Guarantee Certificate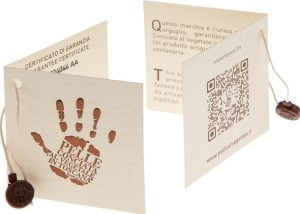 The warranty card certifies the origin, the state-of-the-art manufacturing process, and the naturalness of the vegetable-tanned leather. Each tag is printed with anti-counterfeiting techniques and carries a progressive serial number that allows the consortium to identify, at any time and anywhere in the world, both the tannery supplying the leather and the manufacturer of the product.
Choosing a product made of Tuscan Vegetable-Tanned Leather means choosing a one-of-a-kind object that uniquely reflects the owner's values and lifestyle. Shop here.